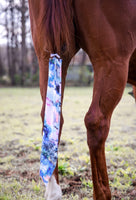 Why use a tail bag?
Protect your horse's tail by using a home-made Rock'N Tail Bag! Simply braid the hair, insert it into the bag, and tie below the tailbone. Perfect for quick or overnight protection or extended use. Rock'N Tail Bags have no Velcro to pull on tail hairs and no fleece to absorb the hair's natural moisture. There's no simpler way to keep your horse's tail in show-ready condition!
Featured in Horse&Rider Magazine
We did it again! Rock'N Tail Bags was featured in the Summer 2023 issue of the Horse&Rider Magazine! Our classic tail bag was paired with matching mane bags in our Turquoise Sunflower pattern! The article provided great grooming options on how to protect and grow your horses tail! Check it out in your copy today! Take a selfie with the article and get 30% off your next order!